Phi Group have completed the first of their Andacrib concrete crib retaining walls working for Balfour Beatty on the Highways England A2 Bean and Ebbsfleet Junction Improvements project.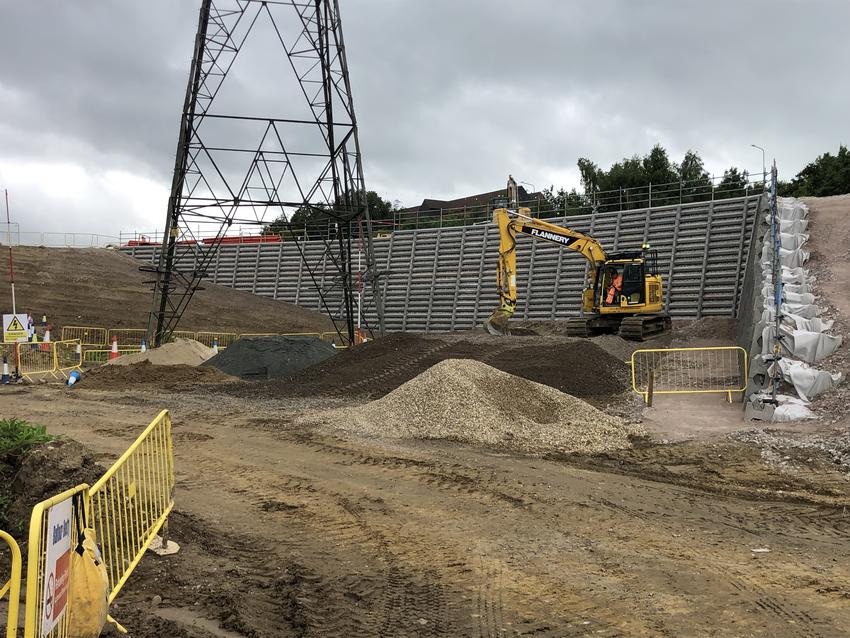 The project
The Pylon wall retains up to 7.0m in height and is 75.0m in length with a face area of 365m2. The construction of this retaining wall adjacent to an existing pylon required careful co-ordination with all parties on site, to ensure safe working was maintained at all times and construction ran smoothly.
The challenge
Phi Group were engaged at an early stage to carry out the detailed design of these retaining walls with Atkins, but also early engagement with the Balfour Beatty site teams was paramount. This meant that when we arrived on site to commence the work, any possible issues had been discussed and addressed, meaning operations on site could carry on without any delays.
The Andacrib concrete crib retaining wall system is CE Marked, has a 120 year design life and is very quick to construct, making it ideal for highways and infrastructure projects. The installation is carried out by our directly employed and vastly experienced teams, ensuring quality workmanship every time.
The solution
This is the first of three Andacrib concrete crib retaining walls that Phi Group are providing the full design, supply and installation service. The Pylon wall was started in June with a five week programme. Phi Group are proud to be working with Balfour Beatty on this important project, and look forward to successful completion of the remaining Andacrib retaining walls.