When a large new retail park was being constructed in Rugby, the use of gabion retaining walls, free standing gabion walls for visual barriers and gabion cladding to the new buildings, were specified by the project Architect. Phi Group sprang into action and provided the full design, supply and installation package.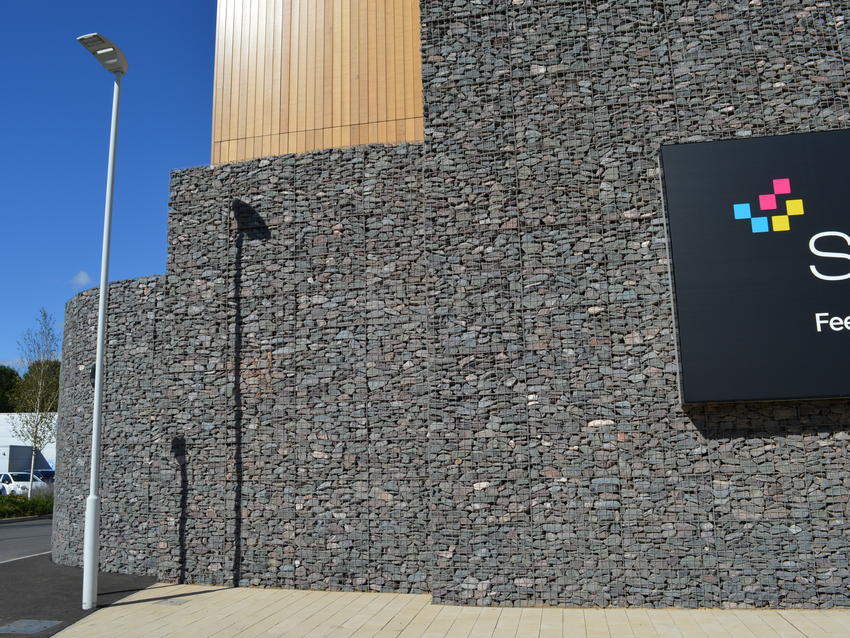 The project
Elliott's Field Retail Park in Rugby is a large retail development, home to over 30 shops and restaurants. As part of the planning application the use of gabion baskets to form free standing acoustic/visual barriers to service yard areas, and gabion cladding to the buildings was proposed. The use of gabions are often proposed as architectural finishes as well as retaining structures.
The challenge
The main challenge with free standing gabion walls is to keep the structure depth as thin as possible, whilst making sure the structure can stand at the required height safely. To achieve this, support columns are often incorporated within the structure to give it the required strength. The challenge with gabion cladding to buildings, is how to attach it to the building, but also for cladding that is full building height, how to hand lace the stone within the cladding cages.
The solution
Phi Group provide the full design, supply and installation service for this project. A welded mesh gabion basket was used that was typically 250m m thick for the cladding, whilst the free standing gabion walls were 1.0m wide. A high quality architectural finish was achieved for all structures. 
Project facts
Main contractor(s)
McLaughlin & Harvey Limited