In 2021 Caerphilly County Borough Council demolished 23 homes in what was known as one of the UK's most polluted streets, where nitrogen dioxide levels were the highest in the UK outside of London.It was decided to knock down the homes and re-align the footway to prevent the 'street canyon' effect' and improve air quality.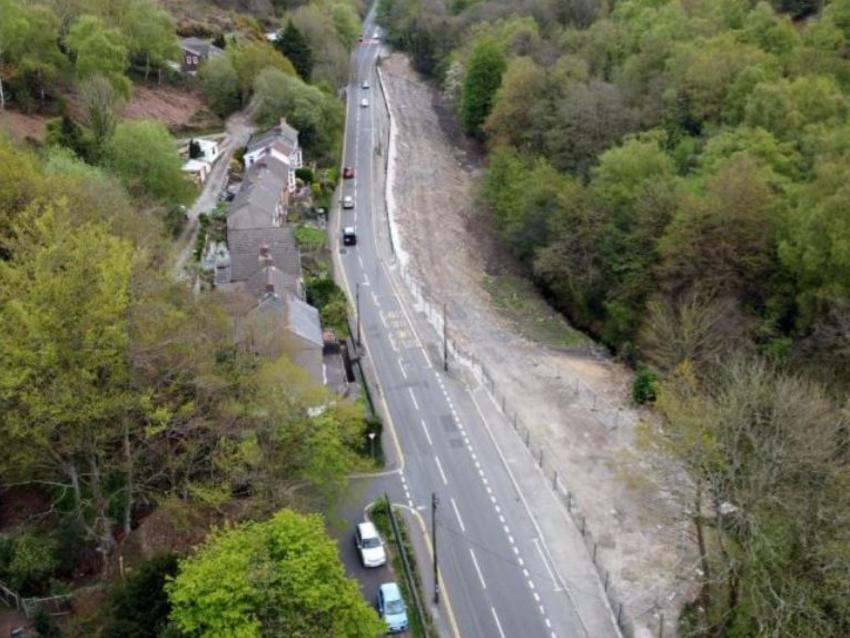 The project
Caerphilly County Borough Council approached Phi Group to assess suitability and options for the widening of a carriageway and footpath on Hafodyrynys Road. Phi Group were appointed to carry out the detailed design of the Textomur slope to enable the project to be tendered. Then we were appointed to carry out the supply and installation by the successful contractor Walters Group.
The challenge
The main challenge for this scheme was creating access down to the works area while minimising disruption to the busy road above. Principal Contractor Walters Group and Phi Group collaborated to develop an access plan that meant they were able to provide the construction materials required by Phi Group to meet the programme.
The solution
As levels were being raised on site the use of a reinforced soil solution was deemed as the most appropriate. The Textomur System involves the placement of prefabricated sacrificial steel mesh formwork to the face of the reinforced soil slope, a geotextile is placed to the inside face of the steel cage to enable a layer of topsoil growing medium.  The geogrid soil reinforcement is then incorporated from the steel cage and extends back into the reinforced soil fill material. The Textomur slope is 190m long and up to 4.80 retained height, with a face area of 830m2. Walters commented "It has been a pleasure working with you. Brendan and the boys were great on site and that has lead into the remaining works going pretty smoothly so it's much appreciated."
Project facts
Owner(s)
Caerphilly County Borough Council