The development is a new unit at Logic Park industrial park, Leeds and required regrading of part of the sloping site and steepening of the slope to the North of the unit.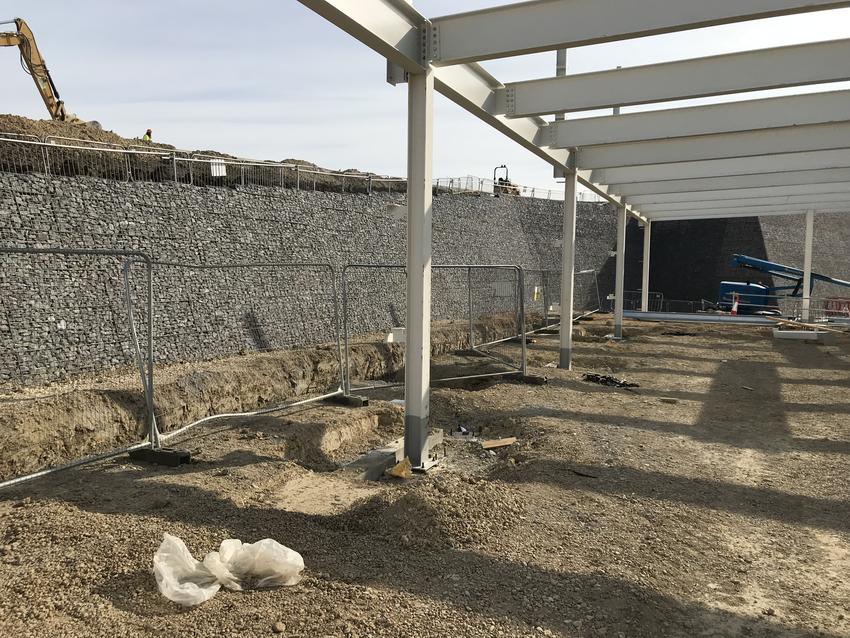 The project
The main contractor was keen for one geotechnical contractor to carry out the complete package of soil nailing and facing system. During the main works Keller installed soil nails to the face of the slope cut by others in a top to down sequence and Phi Group installed gabion cladding.
The challenge
Soil nail installation in very stiff clay and weathered mudstone and challenging logistics and planning. The soil nailed slope then needed a facing system that was maintenance free and aesthetically pleasing.
The solution
Keller installed more than 4.5km of R32-280 hollow high yields bars. Self drilling soil nails were completed with structural mesh and head plates to support the excavated face. During the works Keller used a traditional crawler mounted drilling rig and specially adapted excavator with the drilling rig mounted on the mast.
A remotely controlled drilling rig mounted on an excavator provided great flexibility to install soil nails which were located too high for a traditional crawler mounted rig.Following the soil nailing works, Phi Group installed 1200sq m of gabion cladding on the face of the slope.
As the is was carried out from the bottom up, the use of telehandlers and long reach machines was required. As the gabion basket was a facing only, the thickness of the basket was reduced. A great example of two Keller divisions working together to provide Bowmer & Kirkland the best value solution.