Phi Group undertook the design, supply and installation of several; large gabion basket retaining walls for a motorway widening scheme in the M1.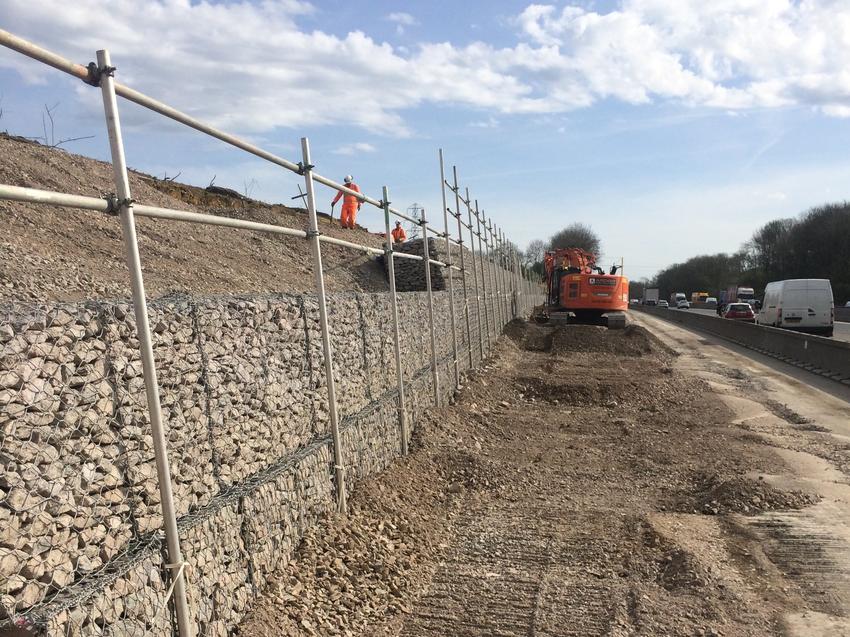 The project
All major motorways in the UK are being upgraded to SMART Motorways to help ease congestion. This involves extending the carriageway to 4 lanes by using the hard shoulder for additional running where required. To enable this emergency refuge areas need to be created and also additional signage installed. This often involves cutting into and extending existing embankments.
The challenge
The main challenge with this project was installing the gabion baskets on a very busy live motorway. Delivery of materials was restricted and additional resources were required to act as banksmen and to adhere to the high levels of Health & Safety specified by both the Client and Phi Group.
The solution
Gabion baskets were specified by the Client's Engineer, with retained heights up to 3.0M. In all Phi Group installed over 1,600m3 of gabions, supplying both the 6G gabion infill stone and over 1,000m3 of granular backfill material. Phi Group were responsible to coordinating the delivery of all of this material to the working area. This required careful programming and co-ordination with Costain Galliford Try.