Phi Group were approached by Buckingham Group Contracting Limited to advise on suitable methods of retention, when a large extension to an existing manufacturing facility they were building needed to deal with various level differences on site. Through the tender process Phi Group proposed various solutions to make the project as cost effective and buildable as possible, with two of Phi Group's wide range of solutions chosen, along with another that our colleagues at Keller provided. A real joint effort to give the contractor an all-in-one package.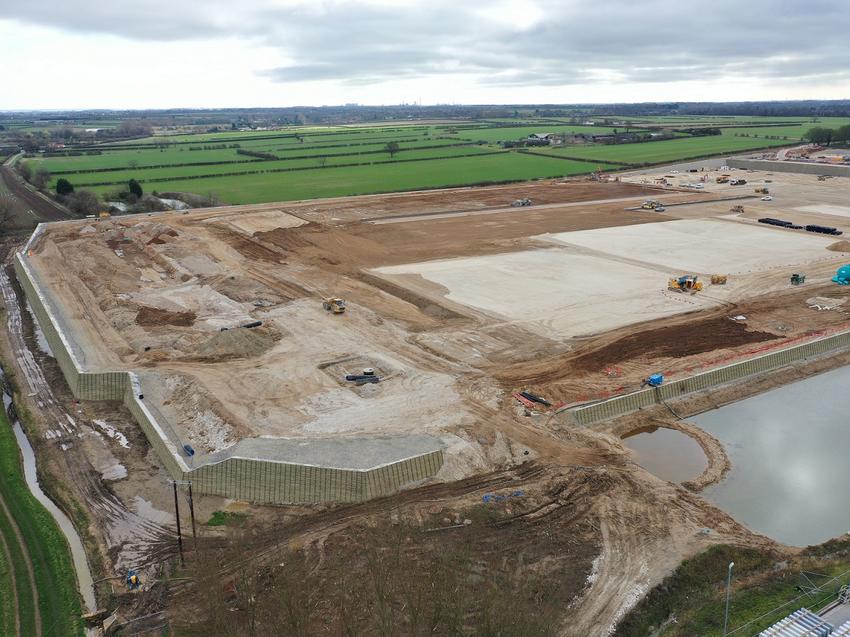 The project
The largest kitchen manufacturer in the UK was expanding its existing manufacturing facility in Barton On Humber, to meet a massive increase in demand. The extension, costing £120 million to build, will double the size of the existing facility and provide important employment for the surrounding area.
The challenge
Substantial earthworks were required to create plateaus for the new area of site being developed. This meant that retaining walls were required to achieve the required levels. The main challenge was the sheer scale of the retaining walls required and the selection of a solution that was economic and quick to install.
The solution
In total, Phi constructed eight retaining walls totalling more than 1.6km in length and retaining up to 7.0m in height. Five of those used the BBA Certified Permacrib timber crib system, which has a design life of 60 years and is very quick to construct. They have a face area of 5,500m2 and a length of 1,400 metres. Phi Group also built 615m3 of gabion baskets on site, totalling 160 metres in length,  while our colleagues at Keller installed a soil nailed structure up to 7.0m high. Watch our drone video here.
We're very impressed with your overall performance


Senior Project Manager for Buckingham Group Contracting Ltd
Project facts
Owner(s)
Buckingham Group Contracting Limited
Main contractor(s)
Buckingham Group Contracting Limited