This is part of a £22M scheme for Scottish Water to improve water quality to the villages of Fort Augustus & Invermoriston, South of Inverness. This project was being carried out by a joint venture ESD (Efficient Service Delivery) formed by Stantec Treatment Ltd., Black & Veitch Ltd. and Galliford Try Ltd.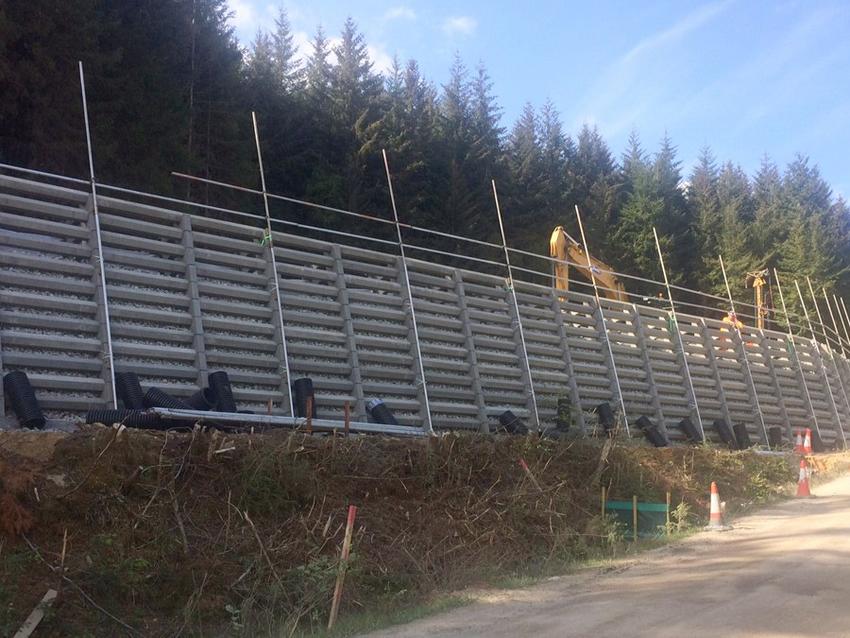 The project
The first phase of the Andacrib concrete crib wall was to enable the construction of a level area behind the wall. This was to allow access to the rear of the wall to enable construction plant/cranes to install the tanks above. The second phase carried out a few months later was so that the area around the tanks could be levelled off to enable the construction of the building.
Phi Group were engaged early on in the scheme and several options were considered before the most cost effective solution was decided on. The Andacrib wall is almost 6.0m in height and therefore required "double models" to be used.
The challenge
Due the topography of the site there needed to be a balance of cut and fill quantities. Also trying to keep these down to the minimum in such a rural location. Moving the wall further into the hillside created more excavations and the access road further from the entrance to the site. Deliveries of materials to the site up a small access road were also taken into consideration. Programming of the retaining wall works in conjunction with the tank installation and building works were also crucial.
The solution
The Andacrib concrete crib system in the final location was considered as the most effective solution. The finished Andacrib wall is almost 80 lin m long with a face area over 350m2 with a maximum height of almost 6.0m. All designed, supplied and installed by Phi Group.