Redrow Homes secured suitable land to develop a large housing site at Ebbsfleet in Kent, which is a prime location to commute into the City of London. The scheme also involved the construction of a new hotel.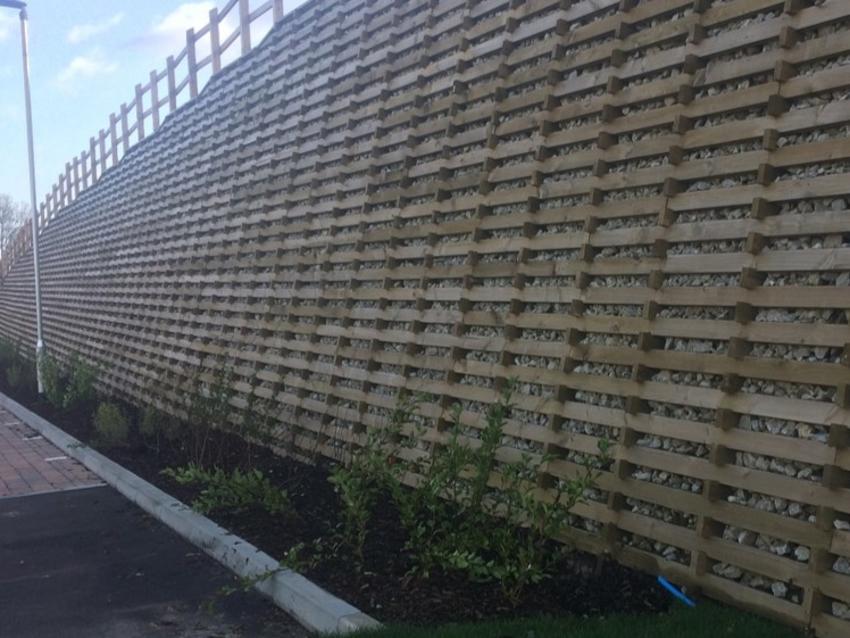 The project
The first phase of the Permacrib timber crib wall was to enable the construction of this hotel, with the second phase carried out some months later to enable Redrow Homes to continue building the new houses.
Phi Group encouraged early engagement with Redrow Homes and their Engineer, to ensure the most cost effective and buildable solution was used.
The Permacrib wall is a maximum height of nearly 7.0m, so temporary earthworks were a major consideration. Phi Group provided the full design, supply & installation service.
The challenge
Due to the maximum retained height of nearly 7.0m, the temporary earthworks were a major consideration when developing the retaining wall solution. Phi Group gave Redrow homes various options which included excavating the temporary earthworks to 60 degrees or 45 degrees. Each option has an effect on the wall thickness, and hence cost.
The solution
The Permacrib timber crib system was chosen as the most cost effective, buildable and aesthetically pleasing solution. The finished Permacrib wall was 370m long, with a face area of nearly 1,500m2 and a maximum retained height of 6.90m. All designed, supplied and installed in house by Phi Group.