As a result of the construction of a large housing development near Bristol, a new primary school was required to accommodate children from the new families moving in. Phi Group had already carried out the design, supply and installation of several Permacrib timber crib retaining walls as part of the development, but were also employed to carry out work on the new school.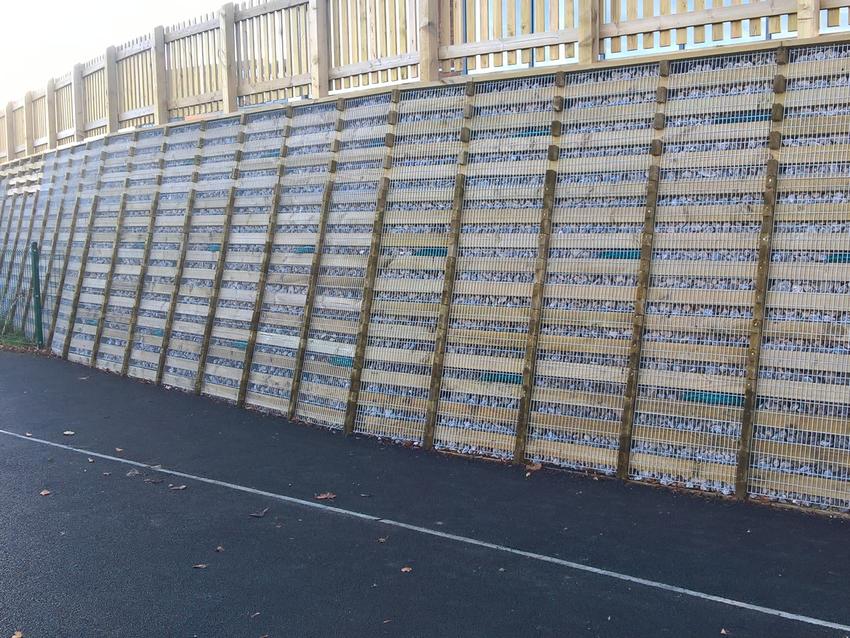 The project
Somerdale is a new development locate on the old Cadburys Chocolate factory site in Keynsham, Bristol. Taylor Wimpey were responsible for the construction of a large housing development, whilst also being responsible for the design and construction of a new Primary state of the art school.
The challenge
The site topography meant that throughout the housing development several retaining walls were required to deal with level differences. The same applied for the new primary school, with a retaining wall up to 2.0m in height required. As the wall was in a school environment it also had to be aesthetically pleasing and child friendly.
The solution
Phi Group and the Engineers proposed the use of the Permacrib timber crib system, with 150m2 of Permacrib wall built in total. The Permacrib wall also had a timber pedestrian guard rail fence located with the top of the wall. On the front face, climb prevention measures were also installed, which consisted of timber infill blocks and steel mesh. The was installed post construction and means that vegetation can still grow through from the planting bags installed within the Permacrib wall.
Project facts
Main contractor(s)
Beard Construction Limited
Engineer(s)
Curtins Consulting Limited